Controlling the Presentation:
The presentation screen has a control bar along the bottom (in grey).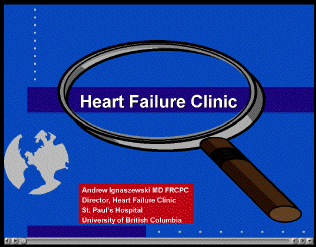 Different parts of the control bar have different functions.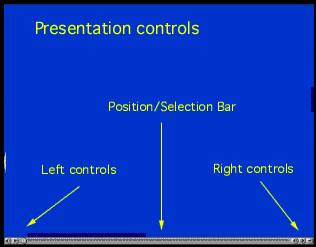 The left controls allow you to control the volume, and pause or play the presentation.
| | | |
| --- | --- | --- |
| Movie is playing, but can be paused by clicking on the button with two vertical lines. | Movie is paused, but can be played by clicking on the button with the right arrow. | Clicking here will bring up the volume control slider. |
| | | |
It's useful to note that even if the movie is paused, your computer will continue to download the presentation until it has completed the retrieval. This is very useful for modem viewers or others on a slow link. You can open the presentation window, wait until the controls appear, and pause the presentation - the presentation will continue to download in the background. You can move the presentation window to the background and do some other work, or hide the presentation window, while it continues to load. Once a few minutes of the presentation have been received, or all of the presentation if you prefer, you can then watch it through without interruptions. (Your computer does not have to retrieve all of the presentation before you can start to watch it, however; you can watch the downloaded part while the computer is retrieving more.)
Also, you will not need to retrieve the presentation again, so long as the presentation window remains open. This is very handy if you wish to interrupt the playback for any reason - the presentation will be waiting for you when you wish to return.
If you do close the presentation window, your browser may or may not have saved the movie in the 'cache'; you may need to retrieve it again if you close the presentation window and reopen it.
The right controls allow you to step back and forward slide by slide, or to perform QuickTime configuration changes.

There is an important control which allows you to jump to any point in the presentation, once you have received it all. While you are receiving the presentation, the bar gradually fills in; once you have received it all, the bar is filled in all the way across. (Note that this bar is not particularly accurate in helping you determine how much of a presentation has been received, however; it has a tendency to fill in slowly to the middle then suddenly jump to the end.)
You can click in the "position/selection bar" as shown by the position of the mouse here: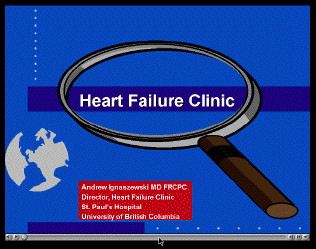 Which will then jump you forward or back to the selected position in the presentation, much like the scroll bars on the side of a window.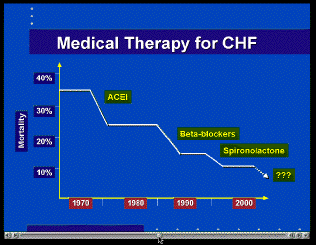 -end-